As we start hearing about the easing of border restrictions, we can think of no better continent to resume your abruptly halted travel plans than the wide open, natural-distance-adhering plains of Africa.
Tanzania has long been the jewel in the crown of the Safari world and is a must visit destination in East Africa. Having already fully opened in late May, you can enter the country without the need for any quarantine. Private Safaris can be had to minimize human contact to the bare minimum.
Namibia is set to tentatively open shop at the end of June. With less than 3 people per square kilometer, these vast open spaces offer the polar opposite of daily life in Hong Kong.
Below, our resident Africa expert shares some useful tips and info to whet your travel appetite.
Tanzania
A country blessed with such a diverse offering, deserves a special place in any adventurer's heart. From the world famous Serengeti National Park where the annual Great Migration puts on its year round spectacle. To Mount Kilimanjaro National Park, home to the world's highest free standing mountain.  This authentic safari destination surely does not shy away when it comes to the sheer magnitude of its world class offerings. After conquering Kili and spotting the Big 5 on safari, why not hop over to endless white tropical beaches of Zanzibar or Mafia islands.  Here your senses will be delighted by ancient Arabic influences, the smell of a thousand spices and the relaxed way of island living. Tanzania is a all round destination like no other!
Itinerary 1: Skysafari Tanzania
- Experience 3 diverse ecosystems easily accessible by private bush airplane. 
- Marvel at the best that Northern Tanzania has to offer including the ultimate iconic safari areas; UNESCO World Heritage Site of the Ngorongoro Crater and the Serengeti National Park.
Itinerary 2: A Southern Secret
- Experience the wilds of Southern Tanzania; the unspoilt, secluded wilderness of Ruaha and the UNESCO World Heritage site of the Selous
-The Selous Game Reserve is renowned for its undisturbed wildlife and nature - a 50,000km2 reserve with no permanent human habitation or permanent structures.
- Explore Ruaha National Park, one of Africa's premier birding destinations and home to the rarer, less-seen creatures including wild dog, sable and Roan antelope.
                   Asilia's Jabali Ridge           Elewana's Tarangire Treetops     Elewana's Serengeti Migration Camp
Namibia
Simply put, Namibia is like no other country in Africa. Located in southwestern Africa, Namibia boasts a well-developed infrastructure, some of the best tourist facilities in Africa and an impressive list of breathtaking natural wonders. To properly appreciate this extraordinary destination, you will have to venture out of the cities to explore the remarkable natural landscapes that are on offer. The first image that pops up in one's mind is the stark expanse of the Namib Desert stretching for over 2000 km along the magnificent Atlantic Coast. Giving form to the world's highest sand dunes and meeting the unforgiving Atlantic Ocean, an area aptly called 'Skeleton Coast'. Namibia is an ideal destination for travelers seeking an unforgettable African experience in a uniquely beautiful untamed wilderness.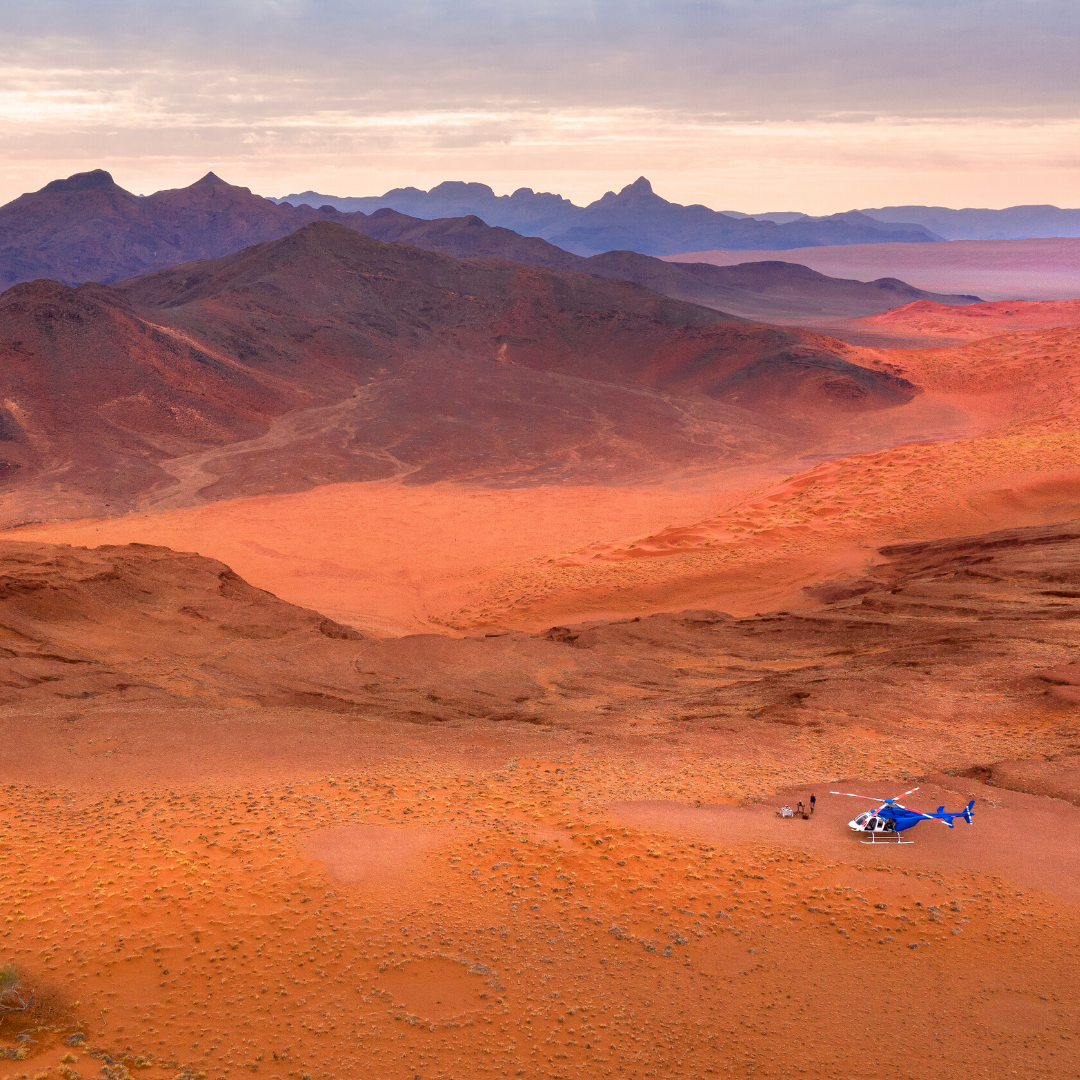 Itinerary 1: Namibia's Most Remote Dunes and Deserts - a Fly in Experience
Over 10 days you will fly between some of the most otherworldly destinations that create Namibia's unique make up. The red dune / blue sky contrasts of Sossusvlei, the eerie shipwrecks of Skeleton Coast and the fascinating Himba people inhabiting the remote Kunene region in Northern Namibia.
Itinerary 2: Namibian Icons - Dunes, Coast & Wildlife Fly in Exploration
Not only is Namibia world renowned for its breath taking natural scenery, it is also famous for being 'more German than Germany'. This 8 day fly in itinerary showcases the stunning scenery of Sossusvlei, the German flair of Swakopmund and the elusive rhino in Ongava Private Game Reserve.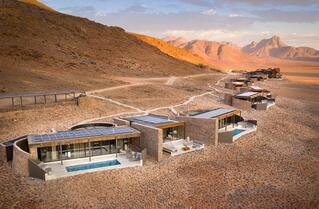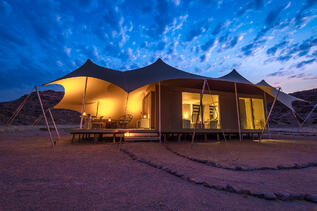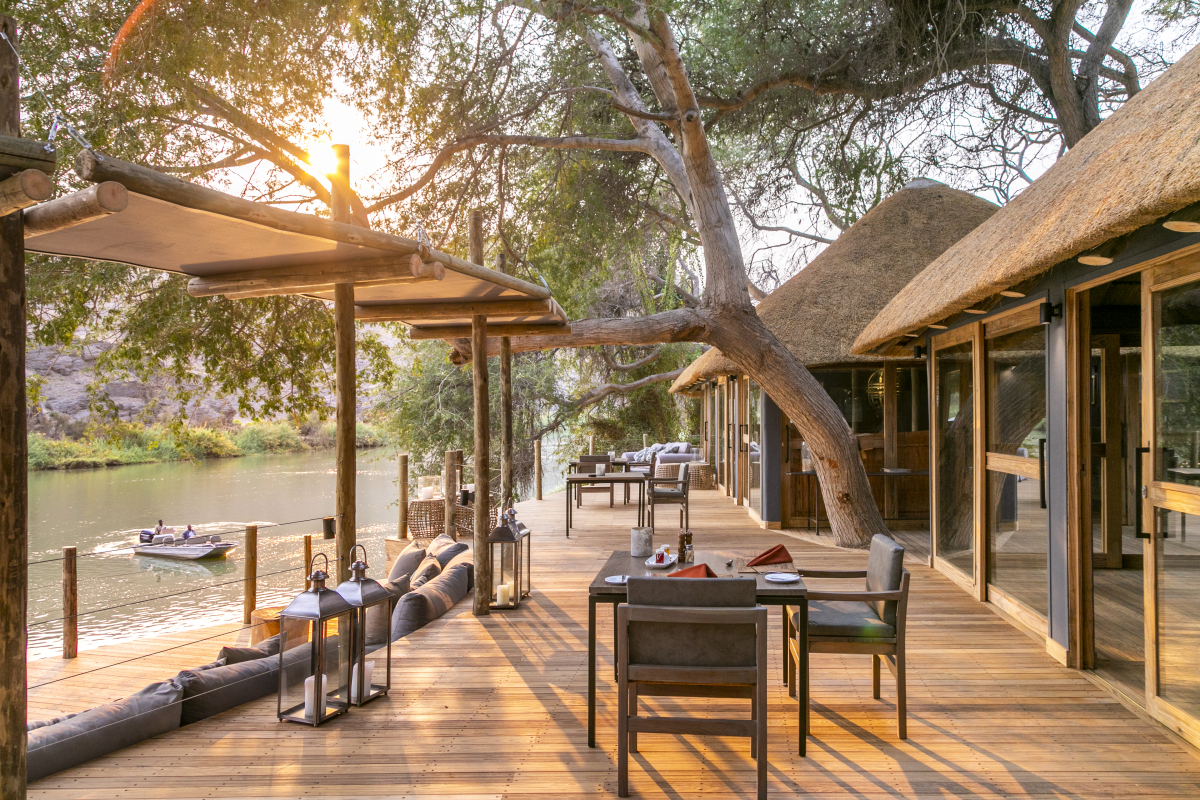 &Beyond Sossusvlei Dessert Lodge    Hoanib Skeleton Coast Camp            Serra Cafema Camp