Honeymoons are the ultimate holiday and when you've been looking forward to something so special, it can be hard to choose! While the popular destinations like Maldives, Bali, France or Italy certainly hold their own, they're simply not for everyone.
 
Africa is becoming the hot spot for the newly married and for good reason. You don't have to be on a secluded beach to disconnect from the world while connecting with your sweetheart and nature. It's the perfect place to have specially curated experiences to make incredible memories that will last a lifetime.
It's the first trip of many, and Africa has so much to offer to start off right.
Kenya - Governors Exclusive 5 Night Fly In Safari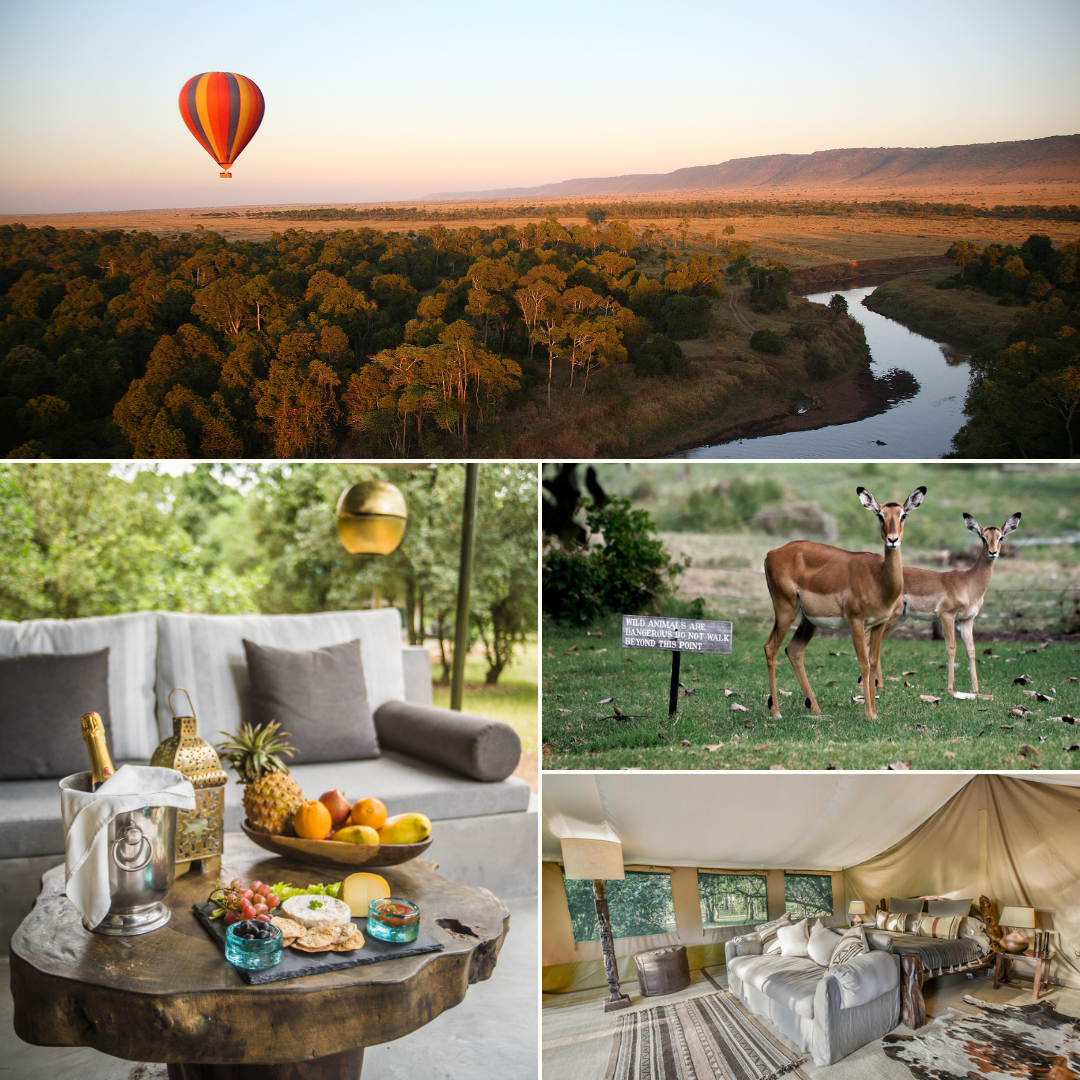 Kick off this exciting new chapter and relax from the wedding festivities with a luxurious, exclusive 5-night fly in safari. Nestled in the forest by the Mara River banks, Governors' Camp's stunning setting was once reserved exclusively for Kenya's colonial governors. Situated in what is widely 
regarded as THE premier location for game viewing, it is world renowned for offering exquisite accommodations at the heart of the action.
Bond over a romantic bath with some bubbly, flowers and the works, or perhaps with canapes and sparkling wine on your tent verandah with the wide banks of the Mara river as your backdrop. After a rewarding evening game drive, enjoy a private poolside dinner at Loldia House, the ideal spot to relax and taste the pleasures of Kenyan country life.
This exclusively priced package also includes:
Meet and greet at Jomo Kenyatta International Airport
Road transfer to Loldia House
Accommodations and meals as per itinerary
Schedule flight from Loldia to Masai Mara
Park fees Lake Nakuru & Masai Mara
Return flight from the Musiara (Masai Mara) to Nairobi
Transfer from Wilson Airport and to JKIA for an international flight onwards
Includes all statutory taxes, including VAT (subject to change)
HM TIPS: We highly recommend booking the hot air balloon experience, which provides a wildlife viewing adventure that is simply unmatched. The first pink tongues of sunlight flicker across the skies as the hot air balloon fills, providing fantastic photography opportunities and memories of a lifetime.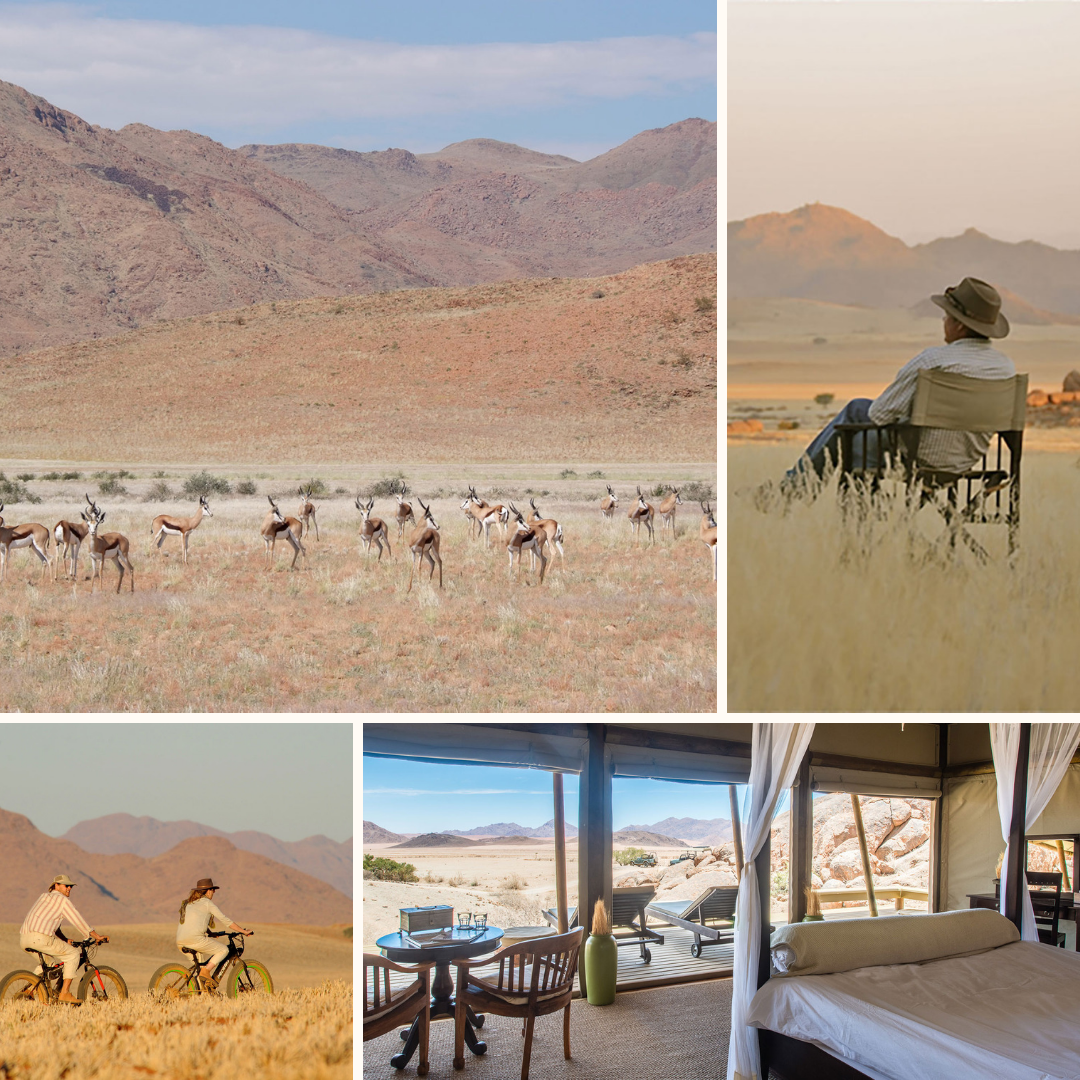 Namibia - Romantic Stays in Wolwedans & Boulders 
The deserts of NamibRand Nature Reserve in Namibia are perfect for the couple craving something unique. Explore vast stretches of pristine nature where you will encounter small and large desert dwellers, intriguing flora and fascinating geology. This offer combines Wolwedans Private Camp with Boulders Safari Camp, both which afford holistic and truly rewarding nature experiences.
The Private Camp is situated in a quiet and idyllic valley, demanding nothing of you but to relax and gaze at the ever-changing colors of the desert and sparkling night sky. Renovated in 2018, Boulders Safari Camp is aptly named for the massive granite rocks that hug the property. Sundowners can be enjoyed from the top of a mountainous rock plateau close by, delivering epic impressions of the immense beauty of the surroundings.
Combine 2 nights Wolwedans Private Camp with 3 nights Boulders Safari Camp for the following value-adds:
Combines with 3-Night Savings at Boulders Safari Camp.
Minimum guests at Wolwedans Private Camp reduced to 2 adults.
Vehicle use for road transfer from Windhoek to Wolwedans included free of charge. Book a guide with extra cost.
HM Tips: For the more adventurous couple, choose the self-drive option! At the airport, hop into a Wolwedan's owned Toyota Land Cruiser and enjoy the incredible change of scenery, wide open spaces and seemingly endless vistas that unfold before your eyes, making the journey there part of the destination.
Belmond Styles in South Africa & Botswana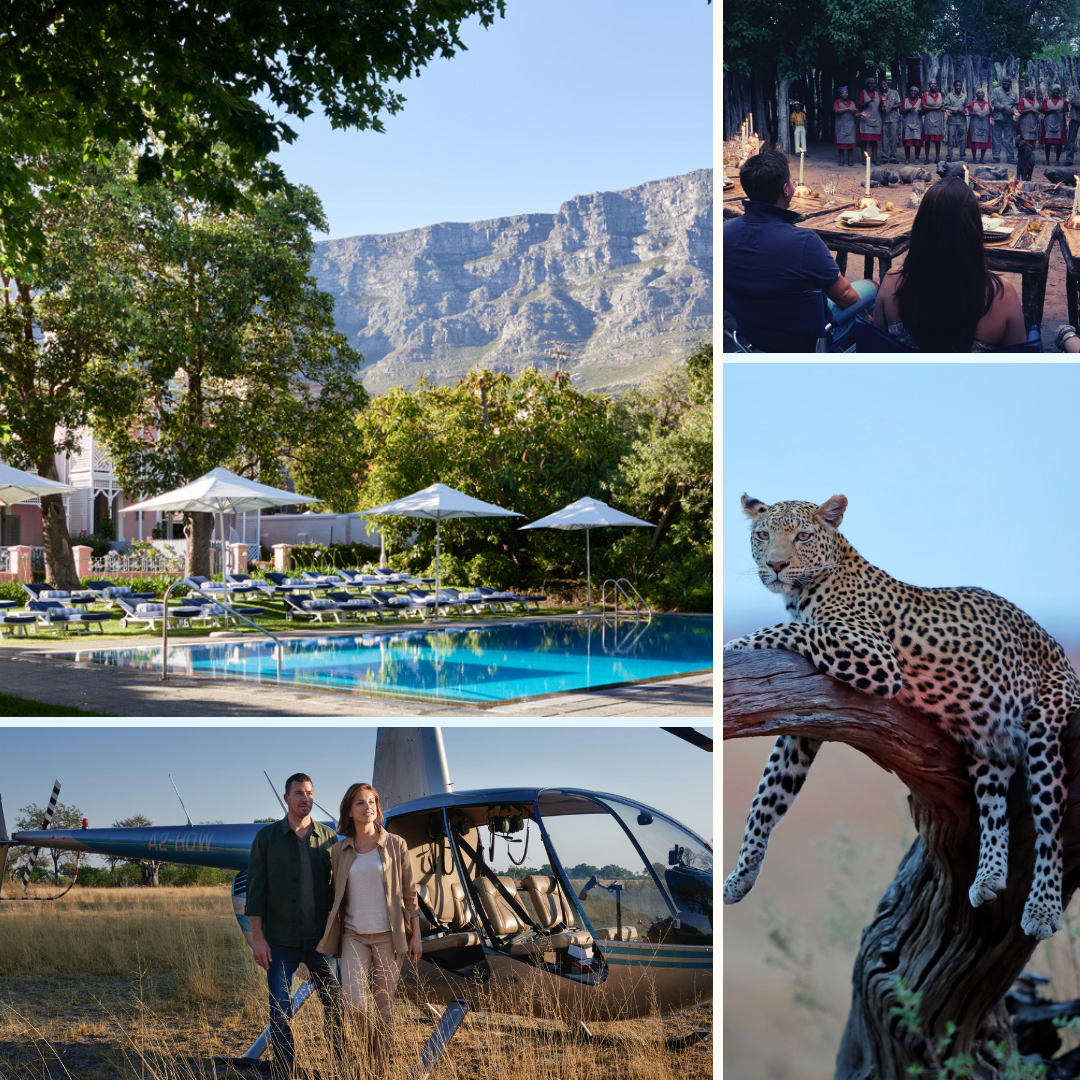 Synonymous with history, heritage and timeless experiences, Belmond's Southern African escapes embrace an iconic Cape Town hotel and three thrillingly different safari experiences in Botswana. There is no more idyllic place to celebrate a special occasion or get some much needed 'alone time'. At Belmond Mount Nelson Hotel, life is all about relaxation at the fully renovated hotel, while the luxurious safari lodges are set in the unspoilt wilderness of Northern Botswana.
Each lodge enjoys its own ecosystem, allowing for dramatically different experiences. Together they form an incredible safari journey that will enchant the most seasoned traveler. This exclusive honeymoon package includes specially curated experiences and combined stays at Belmond Mount Nelson Hotel with Belmond Savute Elephant Lodge, Belmond Khwai River Lodge and/or Belmond Eagle Island Lodge.
This exclusive package includes:
Four or six nights safari at any combination of our lodges, fully inclusive of meals, local beverages and safari activities
Light aircraft flights from/to Maun and between the lodges, departure taxes and national park fees in Botswana
Three or four nights at the Belmond Mount Nelson Hotel, breakfast included, guaranteed complimentary upgrade to Junior Suite and VIP status
A private dining experience at Belmond Savute Elephant Lodge
A champagne mekoro experience at Belmond Eagle Island Lodge
A romantic turndown and a glass of Amarula at Belmond Khwai River Lodge
A romantic turndown at Belmond Mount Nelson Hotel with a bottle of sparkling wine and chocolate dipped strawberries
HM Tips: Belmond Mount Nelson's signature Afternoon Tea served in the hotel lounge is an unmissable experience, so make sure to head down at least once. Having a tough time choosing between the amazing safari lodges? Your travel advisor can help you craft the perfect itinerary for you.